Spider-Man: No Way Home Trailer Dropped - The Loop
Play Sound
Content Warning: This article contains themes that may be difficult for some audiences.
Alice Harmon is the biological mother to Beth Harmon and the divorced wife of Paul. She lived with her daughter in a trailer in Wakefield, Kentucky, until her vehicular suicide on July 24, 1957, leaving Beth orphaned.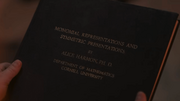 Alice is portrayed by Chloe Pirrie.
Biography
[
]
Little is known about Alice's upbringing, save that she came from a wealthy family.
Alice attended Cornell University and received a PhD in mathematics. During her academic career, she authored the dissertation Monomial Representations and Symmetric Presentations. She beaome a professor at Cornell University, and later married a wealthy man named Paul. They had a single daughter, Elizabeth.
Overtime, her marriage to Paul became strained. Alice struggled greatly with mental illness, and although her husband made efforts to help her, they proved futile. Sometime after the year 1948, Alice took their daughter and fled from her marriage, isolating her and her daughter by moving into a trailer in Kentucky. A month after their disappearance, Paul eventually tracked down his wife and daughter. Paul expressed his concerns over Alice's declining health, begging her to let him into the trailer and take medication that he brought for her. However, after failing to convince Alice to let him into the trailer, Paul divorced Alice. Alice was left with full custody of their daughter.
Alice's mental stability continued to spiral after her divorce. On multiple occasions Alice acted frantically in front of her daughter, such as when she burned her belongings in a fire and submerged herself underwater for a long duration of time.
On July 24, 1957, Alice's mental health reached a tipping point. She took Beth in a car to visit the home of her ex-husband, Paul. Paul, by then, had remarried and had found a new family. Alice desperately begged Paul to care for Beth, as she was unable to adequately provide for Beth with the lifestyle she was living. Paul refused to provide immediate help — though he offered to speak with Alice another time about Beth. Alice, however, believed his refusal to help her immediately to be an complete refusal to help her at all.
At a loss for how to handle things, Alice chose to commit suicide, deliberately crashing her vehicle with Beth inside it and ending her life.